Currently Available!
Award winning Lady's Vanity with Tuffet

This item has been SOLD!
Scroll DOWN to see all the other items.

Tuffet

This piece was designed to accompany a Ladies Vanity but has been very popular by itself. I make them singly now. Quite comfy and a joy to look at.
Select Koa wood and wenge accent. 18h x 14 x 20 $1200.00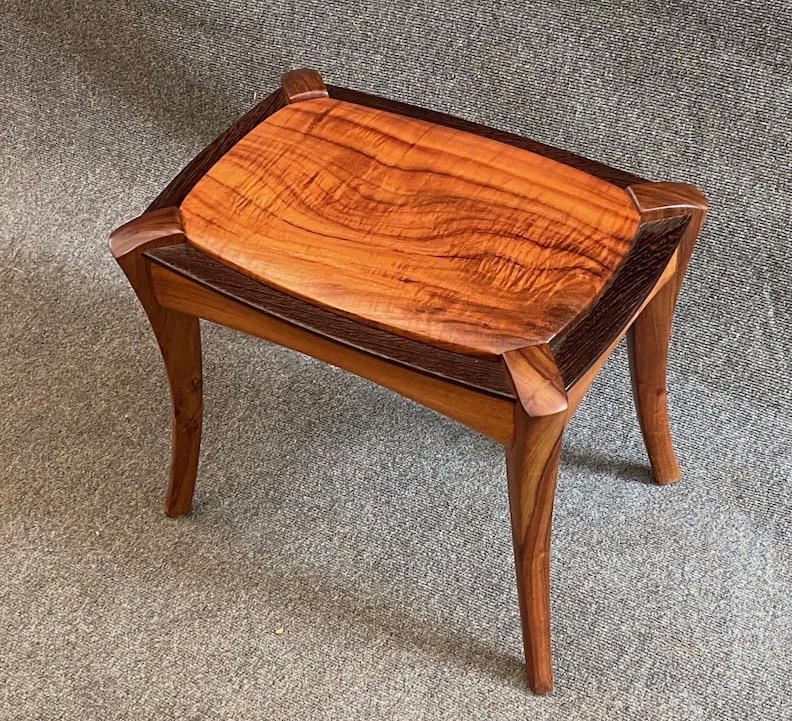 Koa and Wenge Coffee Table

A beautiful combination of woods with small pukas that let light play around the piece throughout the day. Very stable sawn veneers and solid koa structure.
58 x 27 x 17.5 h $4500.00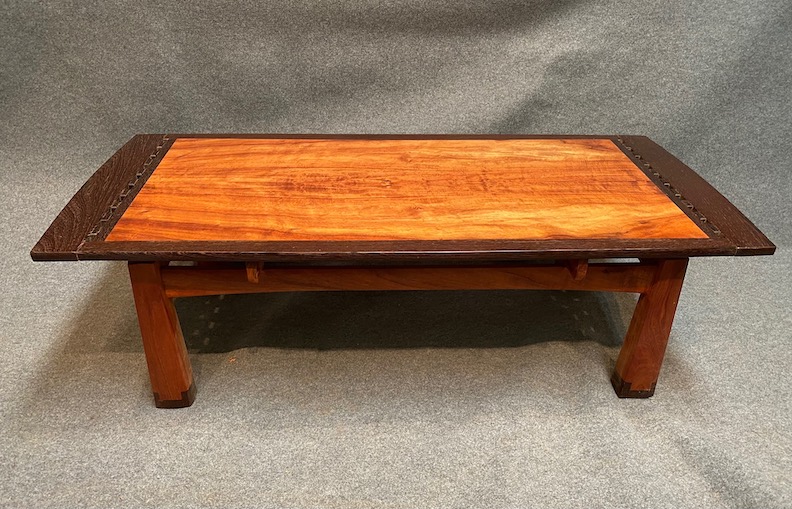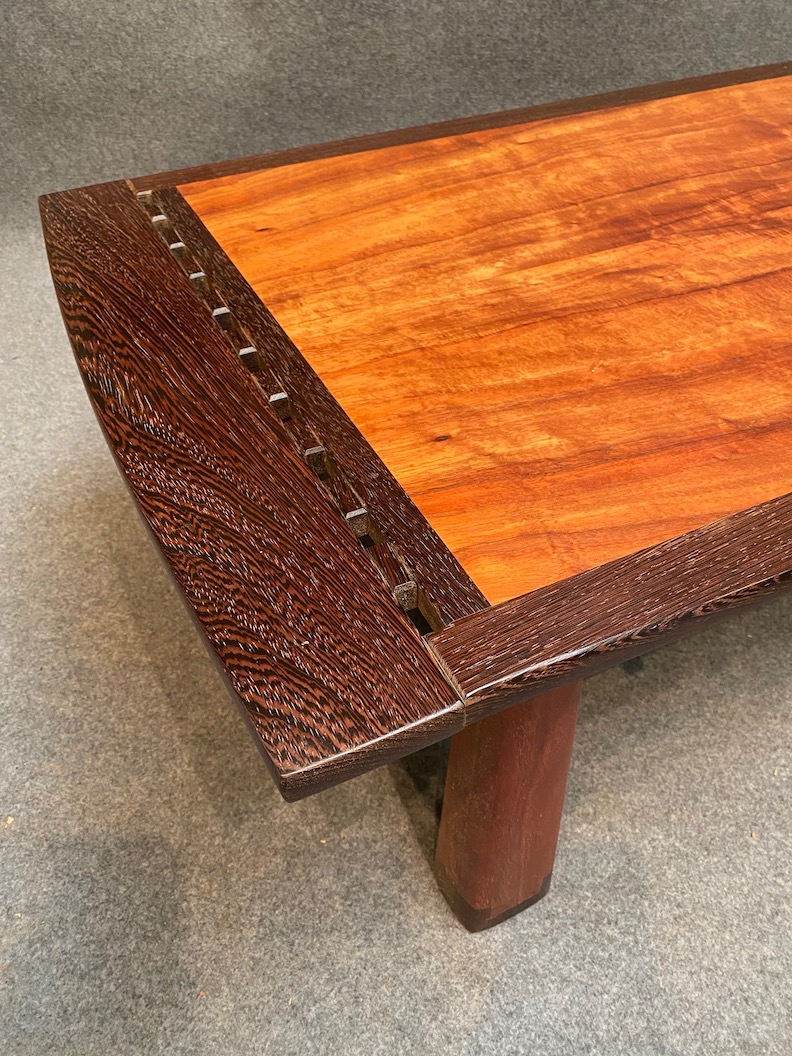 Inside Passage
2019. Koa and Wenge $6800.00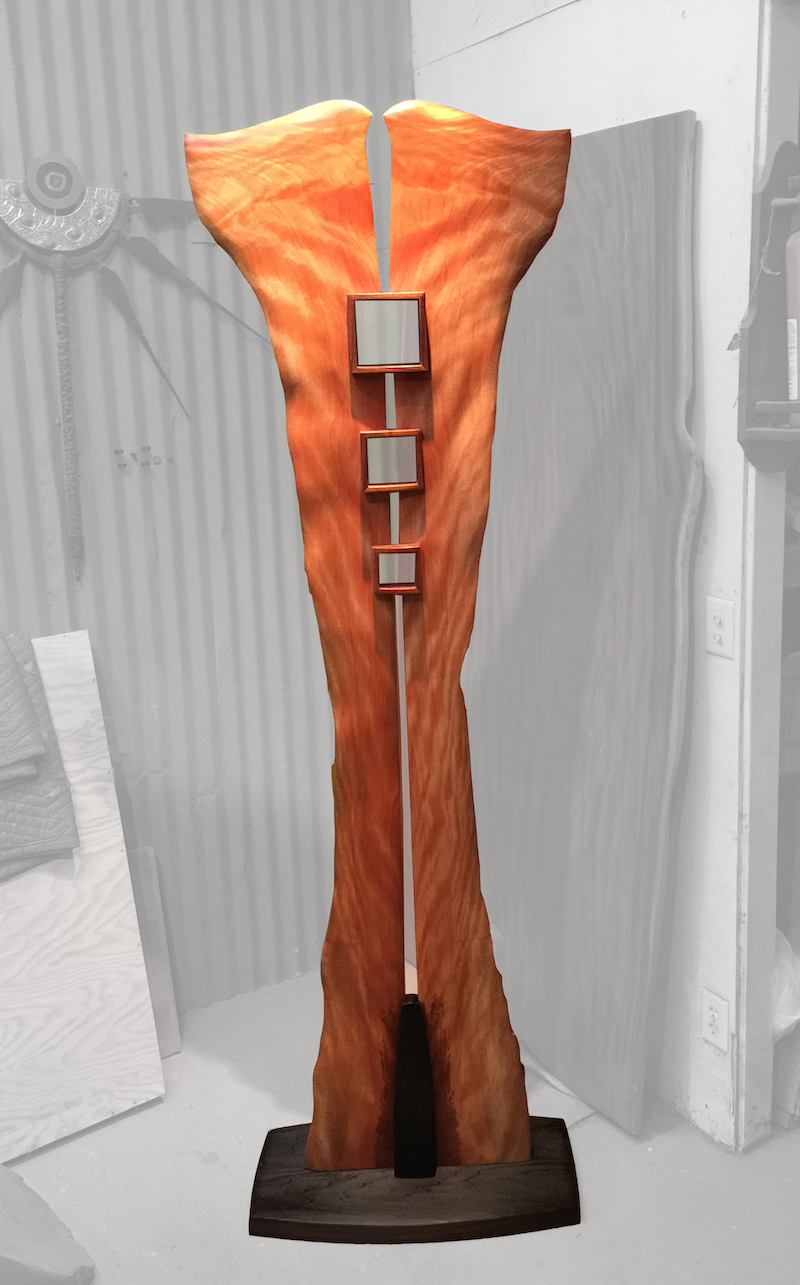 The ripple of the kamani wood and the bird/whale shape of the top suggested themes for a title, but those seemed to "tame" the piece and force the viewer to see it from a certain perspective. The spaces left open are invitations to look into and through the form to draw you into the piece and to the world beyond. I think the boxes might also serve as small altars for objects found on walks. The space between is the inside passage, where the world is whatever you decide it is. 86 h x 26 w x 12 d $6800.00

Kamani wood grows on the coastal areas on the Hilo side of this island. The tree will grow very straight when alone but the seeds drop close to the mother tree forcing the new growth to reach out sideways to get light. Eventually the trees are growing almost parallel to the ground and the immense tension that occurs gives us this beautiful twisted curly grain. It is one of the "canoe plants" brought on the earliest Polynesian voyages because it is considered a sacred tree, providing beautiful timber and oils that have medicinal properties.

Entry Throne
Java Plum wood $5400.00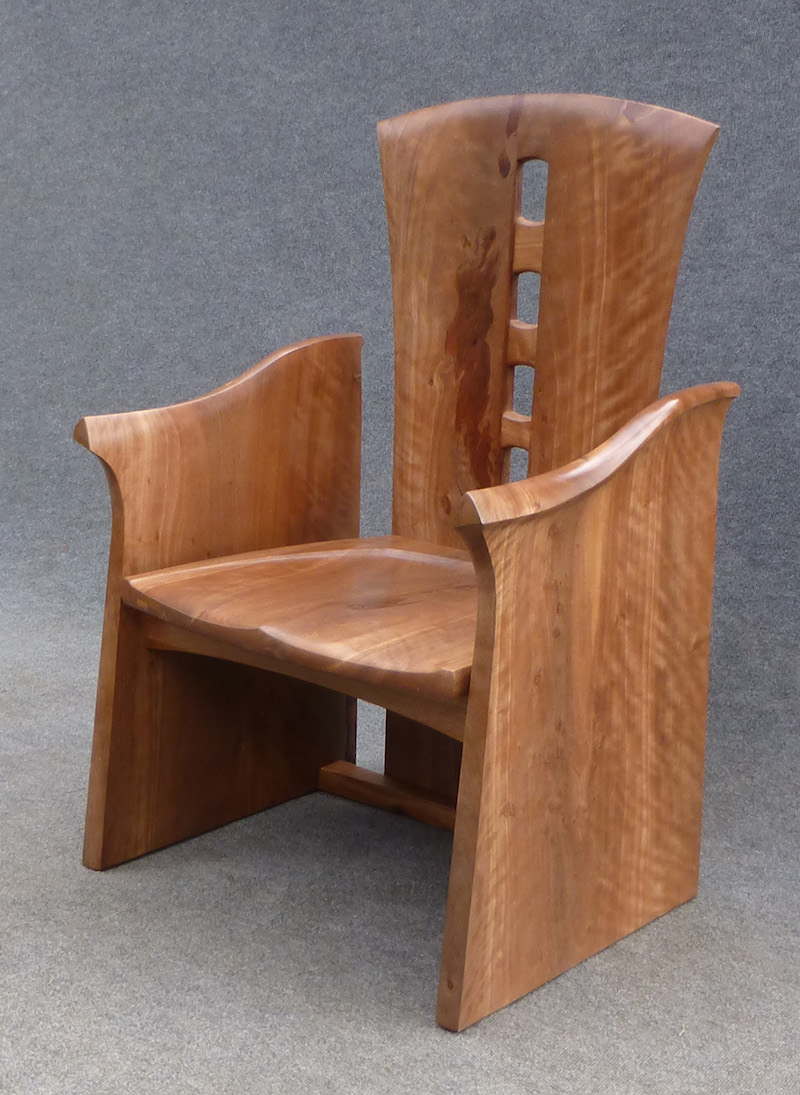 Dream Table
2019. Koa and Wenge $9600.00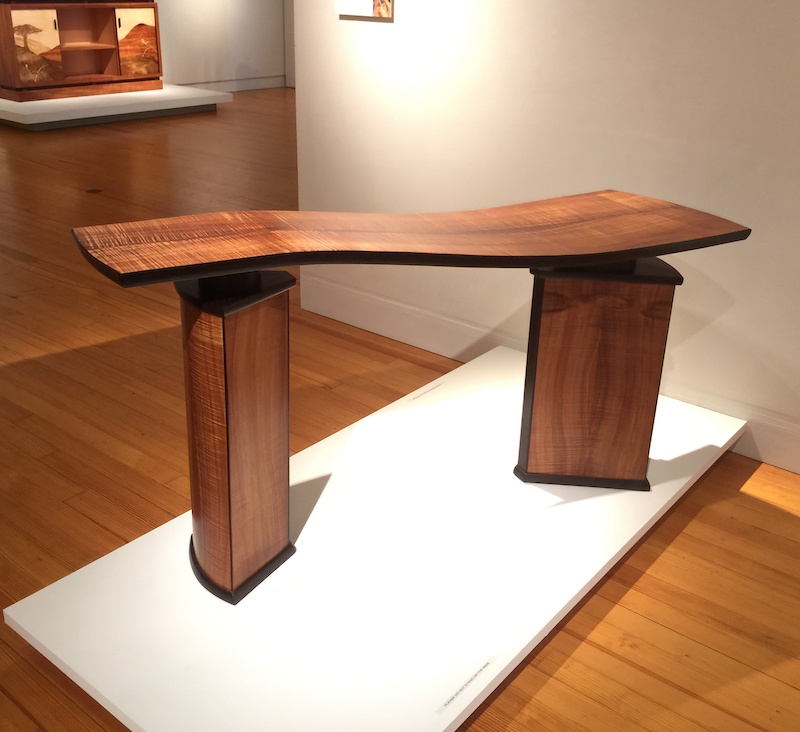 Traditional Bench

Solid koa, simple, elegant and rare to find a single plank in this size. Definitely old school. This piece would be placed at the foot of a bed or along a wall.
19h x 14 x 60 $3500.00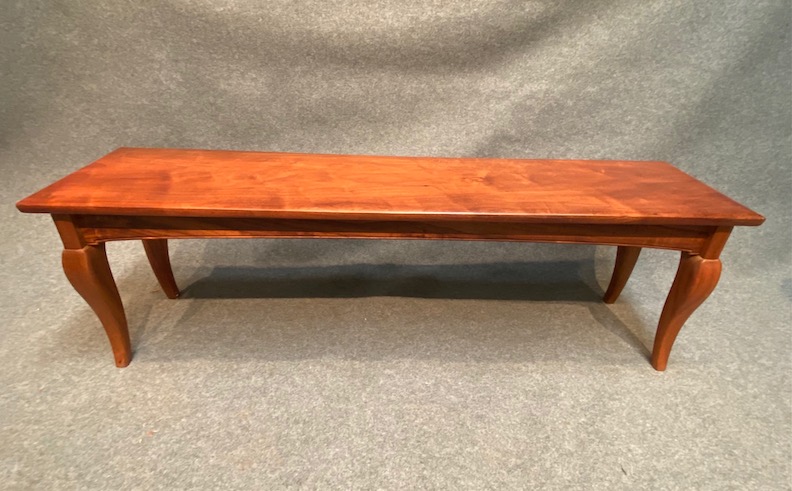 Step Stools
Meditation benches, Various wood ,Mango, Monkeypod, Koa,
Silver oak, Lychee and more. Write for availability. $200. to $300.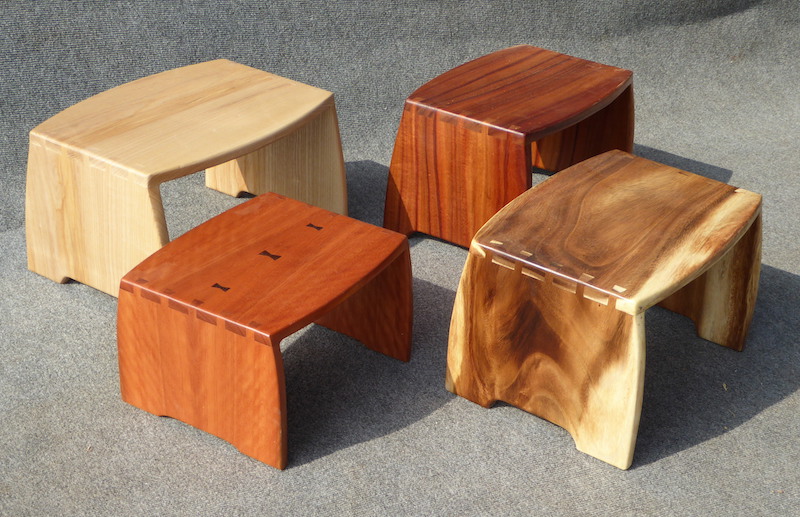 The Nouveau Side Table
This item has been SOLD!
This rocker won top honors at Hawaii's 2020 WoodShow in the masters division. Solid Koa wood and gently curved lines. Detail of top follows. $4700.00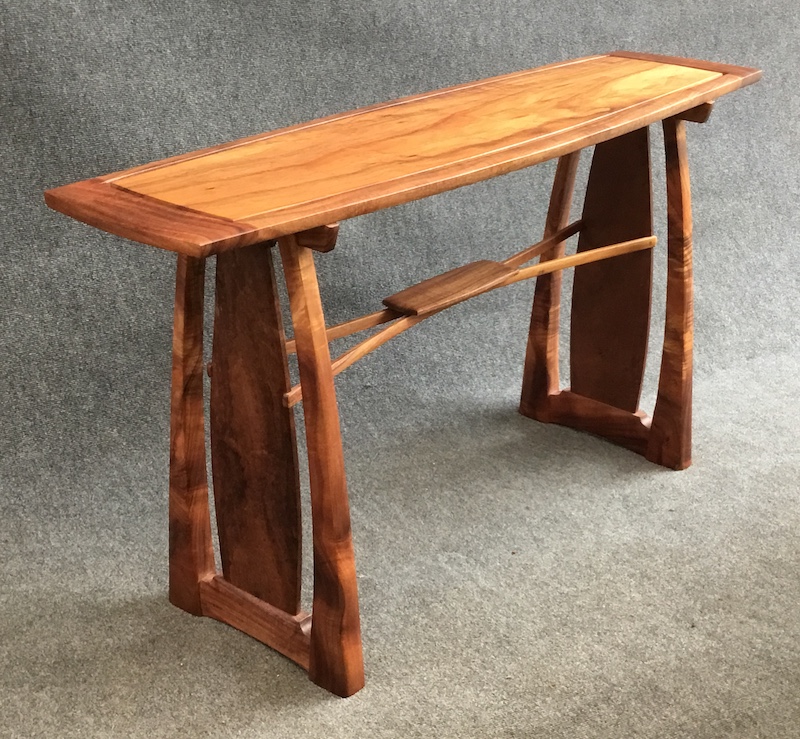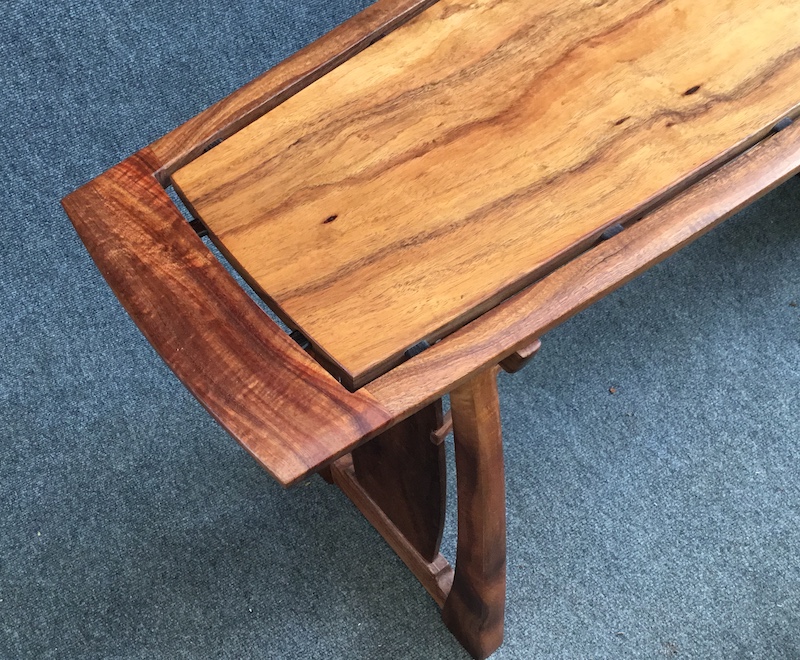 The Tai Lake Rocking Chair
This item has been SOLD! However...
I just built one with some gorgeous dark Koa. This design has won numerous design awards and small details are still evolving. Solid Koa and exquisitely comfortable, $8400.00. It is at the shop now.

Winner of numerous design awards and small details are still evolving. Solid Koa and exquisitely comfortable, $8400.00. Please inquire about our winter special pricing on this showroom model.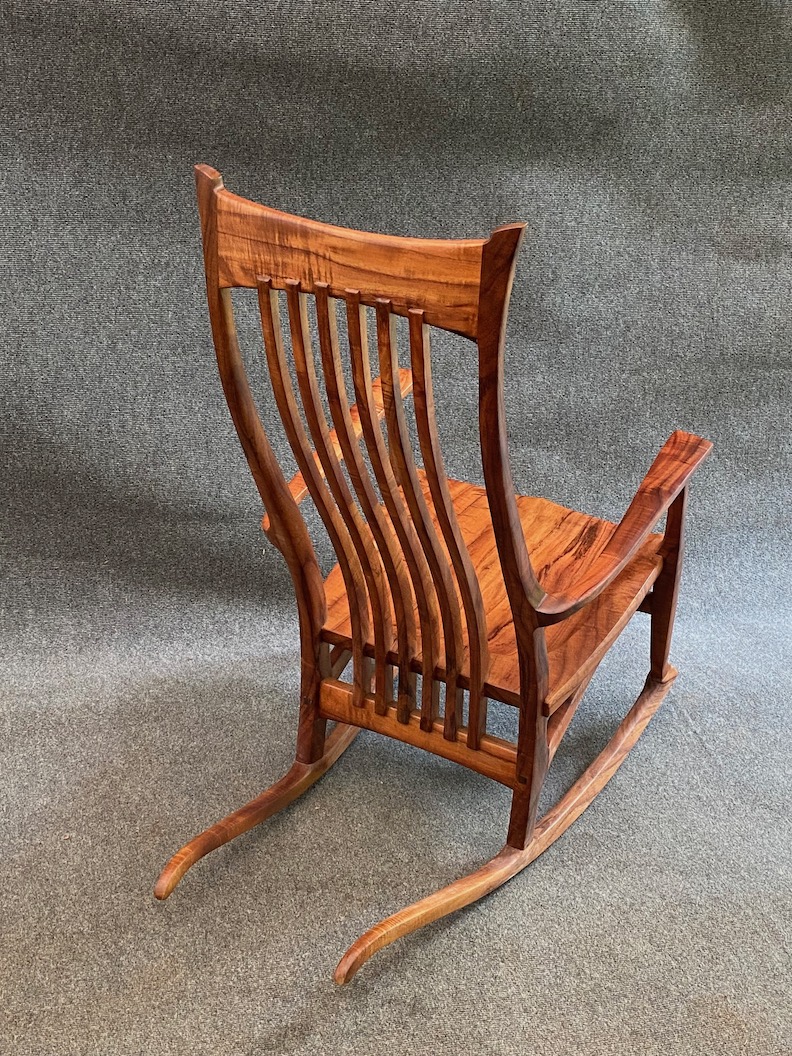 "Frondly Yours"
This item has been SOLD!
Koa and Mango marquetry on a solid koa base. This table makes a completely unique addition to any decor. $9600.00 and also included on our 2020 winter showroom sale. Call for pricing.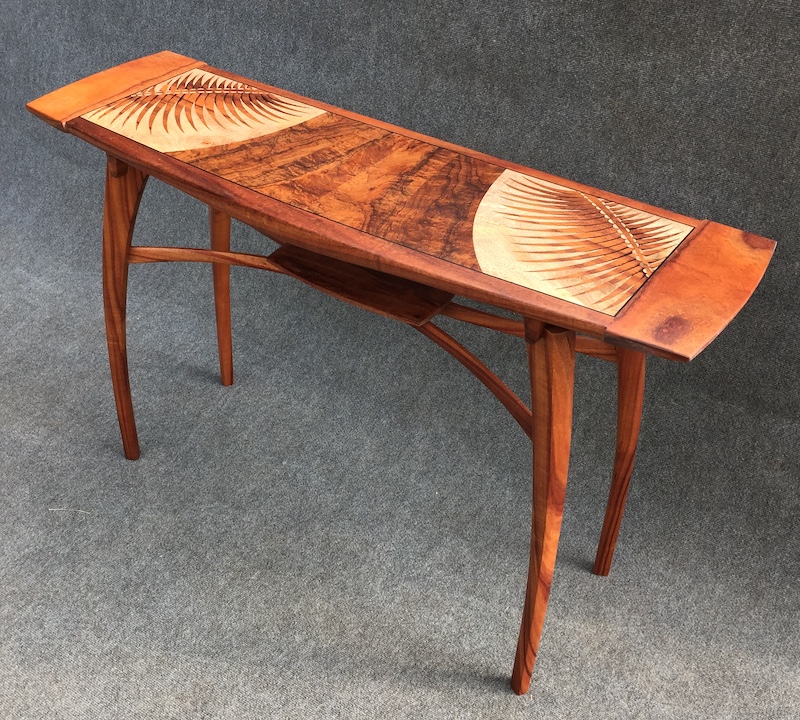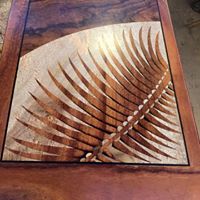 "Kona Gold"
Coffee tables... there are two of these available this year. Koa and Mango Marquetry on a solid Koa base with Ebony inlayed pinstriping and Wenge wood accents. $4500.00 to $5400.00