Elegant Koa Desks, & Vanities by Big Island artisan, Tai Lake
A fine desk reflects and inspires your commitment to the task at hand. Great woods and inspired design create a great environment for bringing out the best in whatever we are trying to do. Everyone has a little different style and every desk is created to reflect that style, as well as the best tone and function, whether it is in the home or professional office.
---
Award-winning Lady's Vanity with Tuffet
This item sold quickly. Ask me if you are interested in a vanity.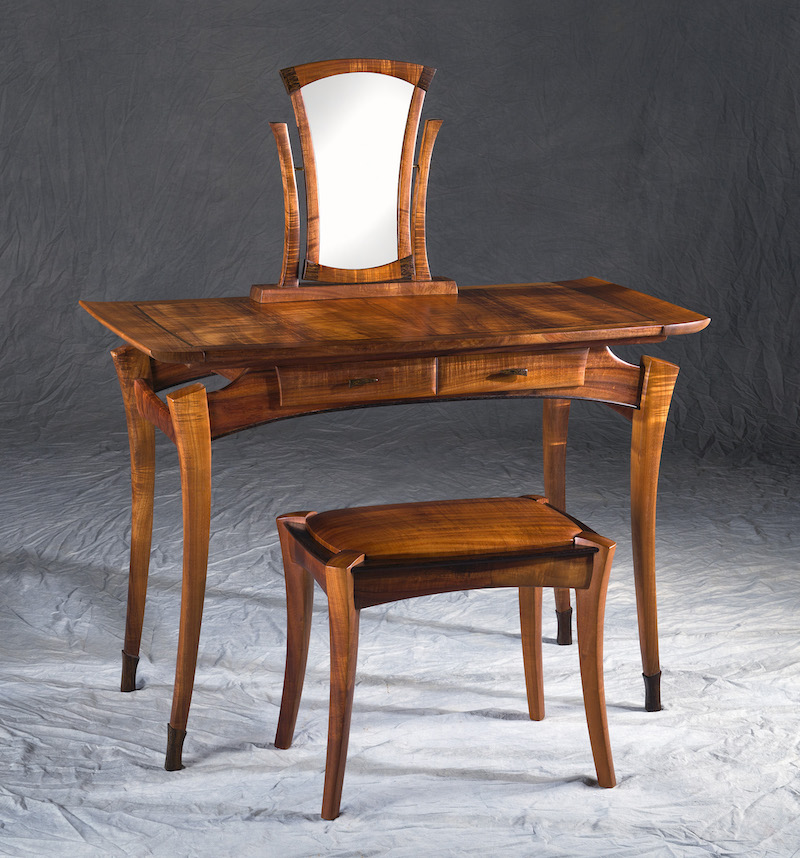 ---
The Tuffet
The Tuffet was designed to accompany a Ladies Vanity but has been very popular by itself.
I make them singly now. Quite comfy and a joy to look at.
Select Koa wood and Wenge accent. 18h x 14 x 20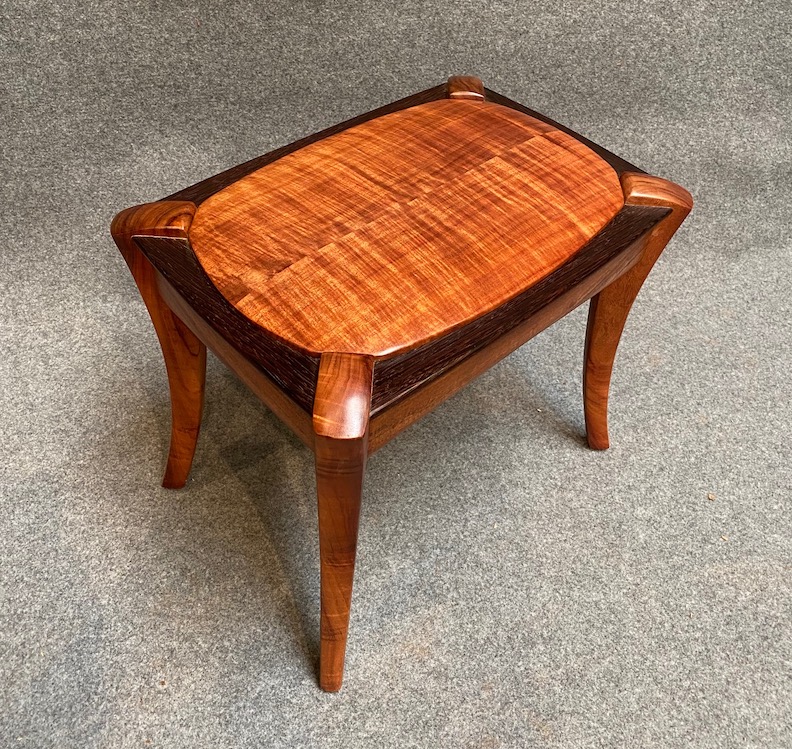 ---
Hualalai Koa Desk
This Koa desk was made to live in a home with high rectangular windows and East West Fusion architecture. The fretwork base brings the lines of the home into the design but is massive enough to balance the feel of the solid Koa wood top. Almost 8' long...the natural edge of the top created an ideal work surface.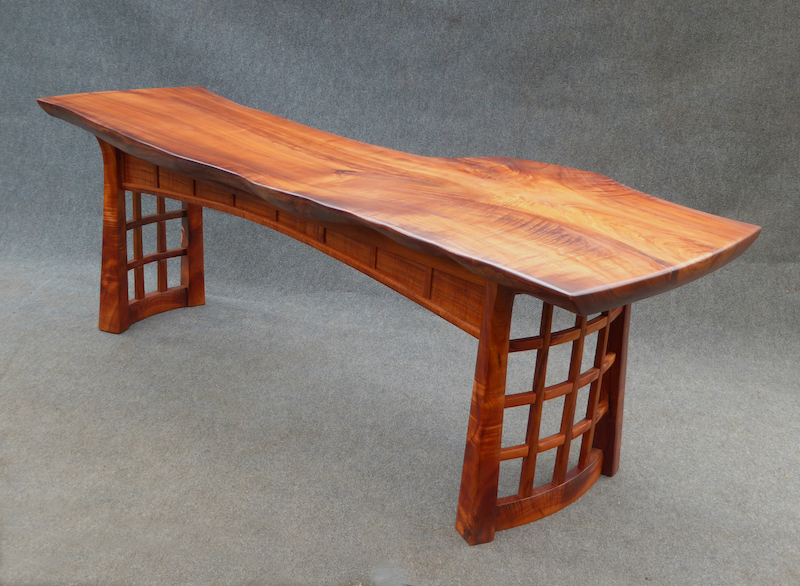 ---
Mango Desk
This Mango Desk was created for patient interviews, The soft lines and open base were designed to create a welcoming and connecting feeling. It is very visually engaging and adds to a mood of intrinsic worth and evident care. The drawers at the end keep vital forms close at hand. The mango is slightly tinted.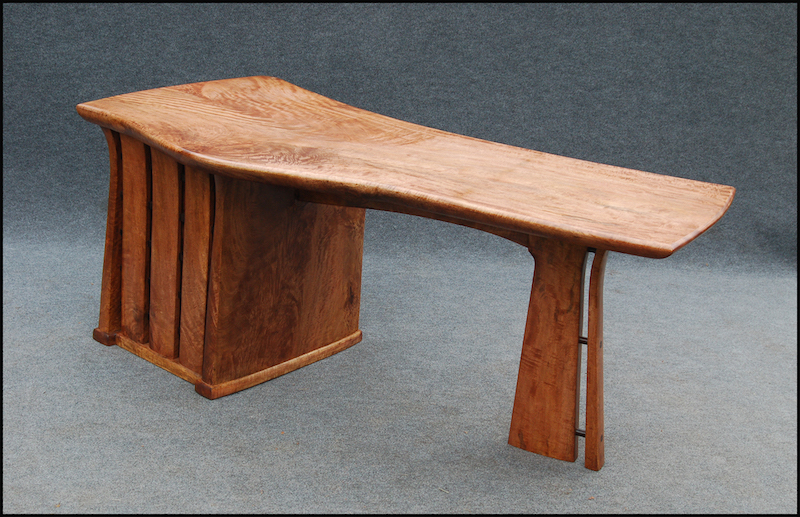 ---
Carmel Desk
This was created for a home in the dry coastal hills near Carmel. The mango wood blends perfectly with the grass hillsides and bright sun there. It sits in a larger room in front of a magnificent view and a fireplace. The natural lines of the slab make it more "comfortable" and the sweep of the lines of the base complement the surrounding skyline.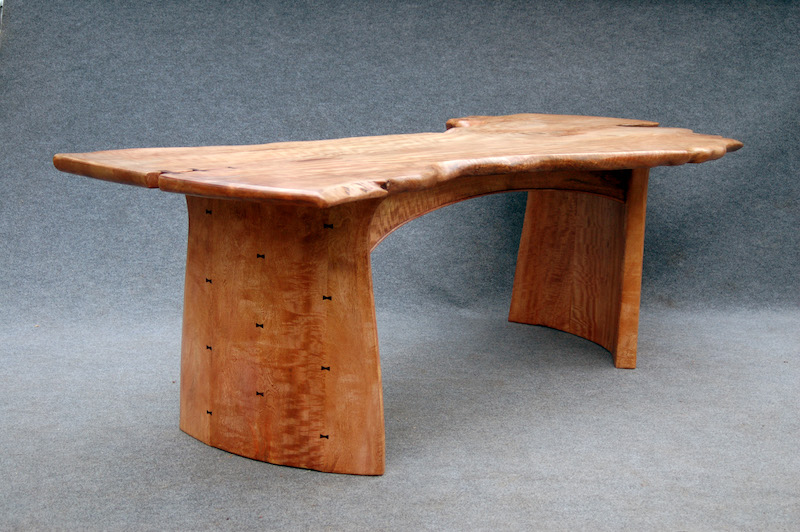 ---
Koa Writer's Desk
This Koa Desk ensemble was created for a writer. The higher than normal top allowed her to gaze over her railings to the Kona sea and the custom chair is tilted slightly forward to create the perfect sitting position for long sessions there. The foot rest on the floor was intended as a "Floor Credenza" where works in progress would be stored between sessions in drawers that could be carried to other places if required.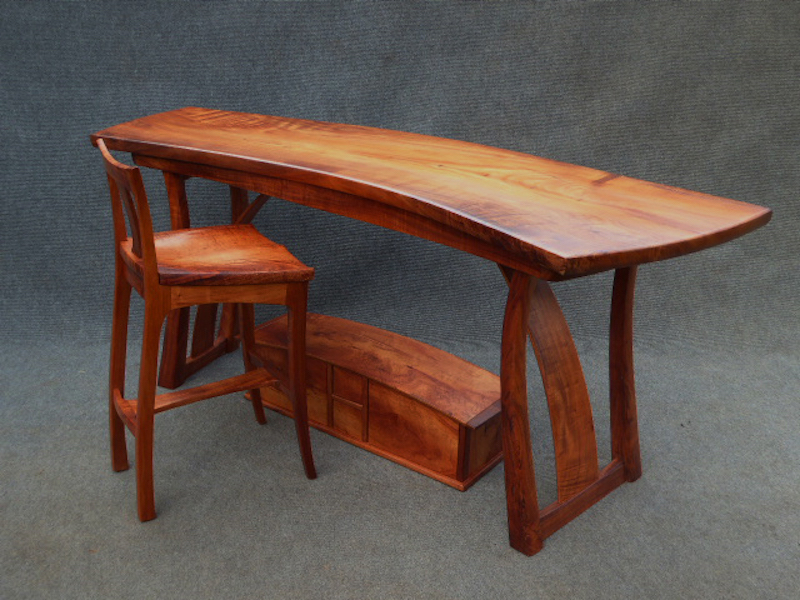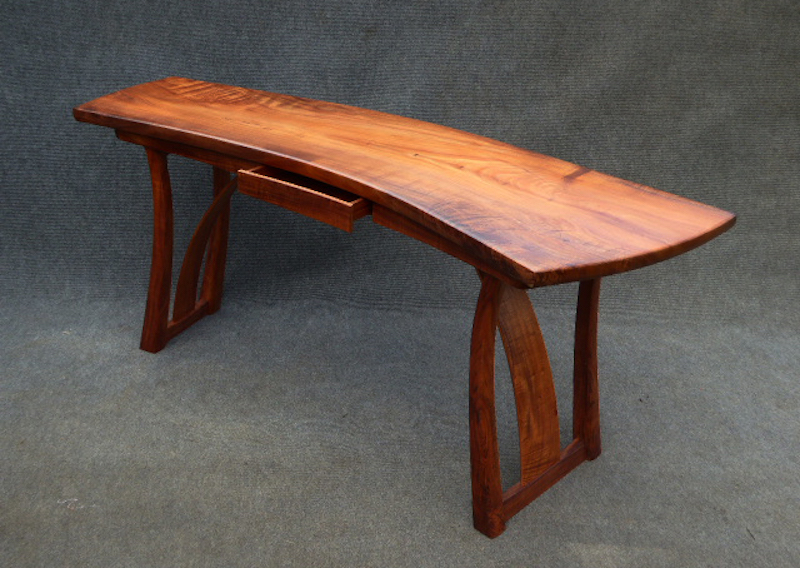 ---
Empire Desk
Some desks are designed simply to impress. An empire was run from behind this one in a dedicated home office here in Hawai'i. There was absolutely no question who was in charge. I was cut loose on this one and was able to put quite a lot of detail into this piece. It is made from Curly English Sycamore and Wenge wood. Both the front grille and drawer faces are curved.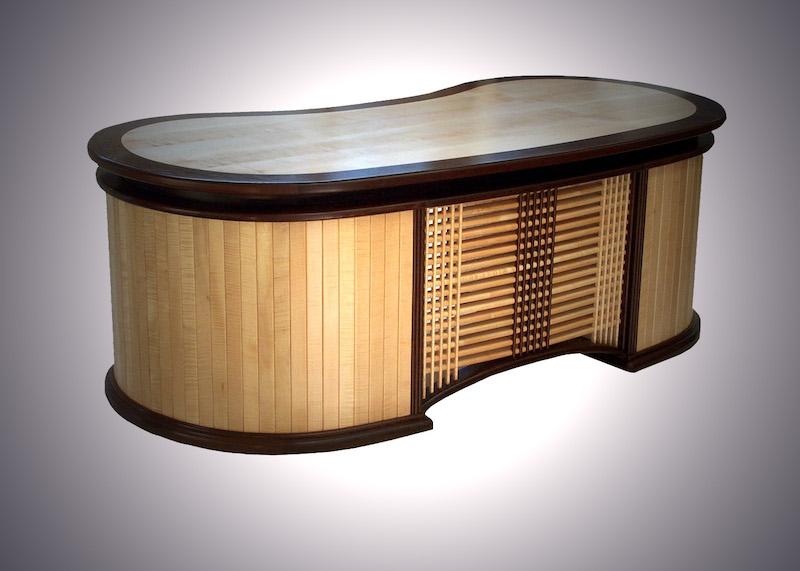 ---
Sunburst Koa Desk
This Koa desk was for an accountant, and had to fit in a very specific place. There is a place for everything - sunburst veneer pull-out work trays just to add a little surprise, dovetailed mahogany drawers...some people really appreciate detail and care, so a LOT of that went into this piece.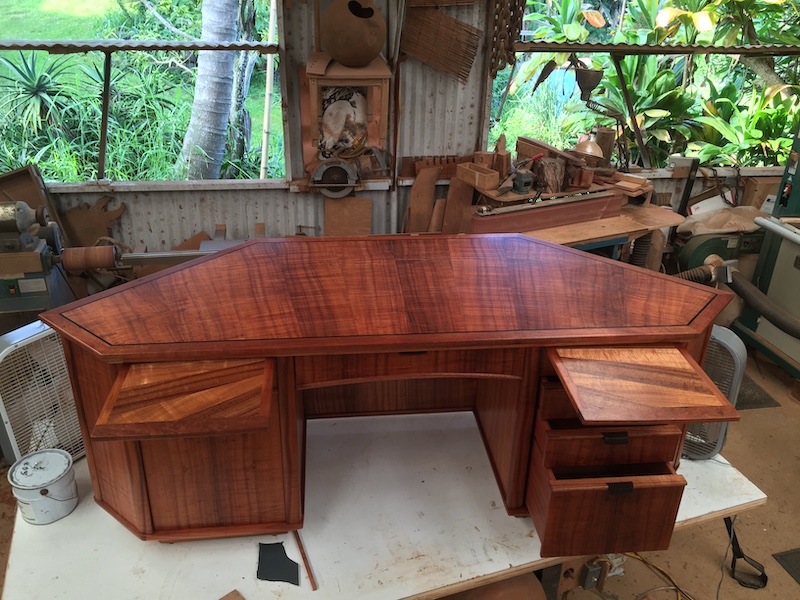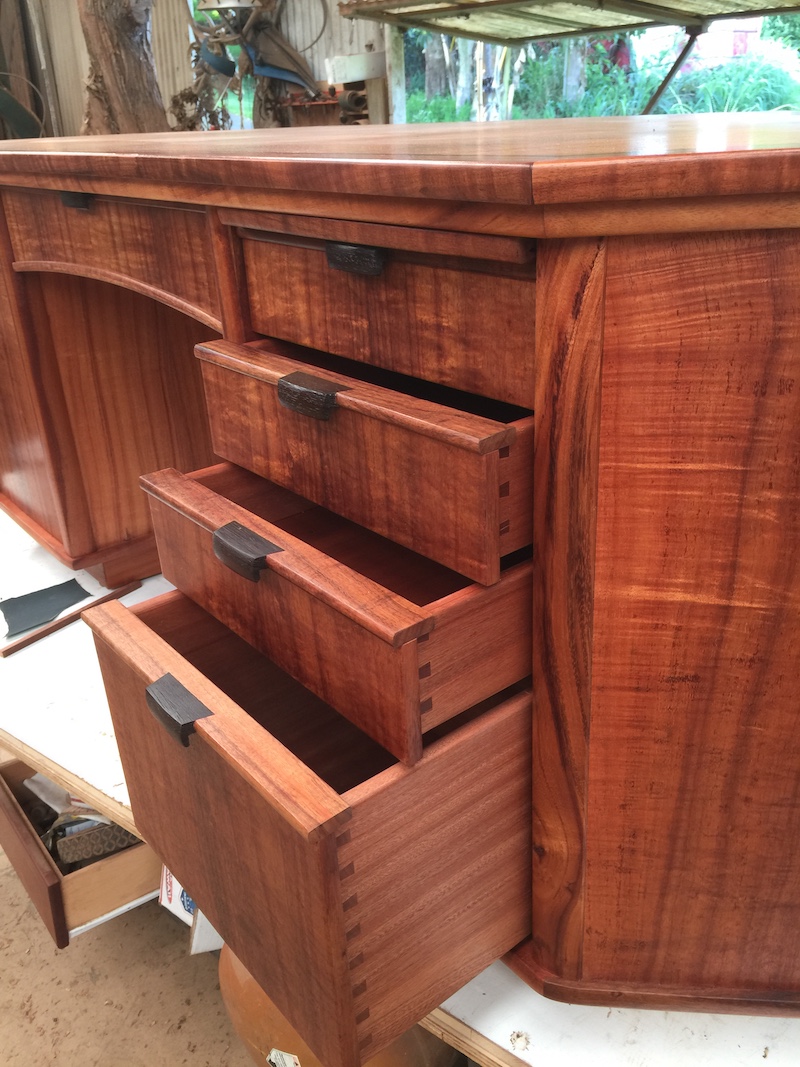 ---
Keauhou Monkeypod Desk
Sometimes you just fall in love with a piece of wood and the right client shows up at the right time. This Monkeypod wood is from an ancient Keauhou tree that toppled in heavy rains. We cut it and waited patiently for it to cure knowing what a wonder it would be. This is in a home office in Hualalai. The legs are hollowed out to allow invisible wiring into the frame. This is about 8' long and 52" wide at this end.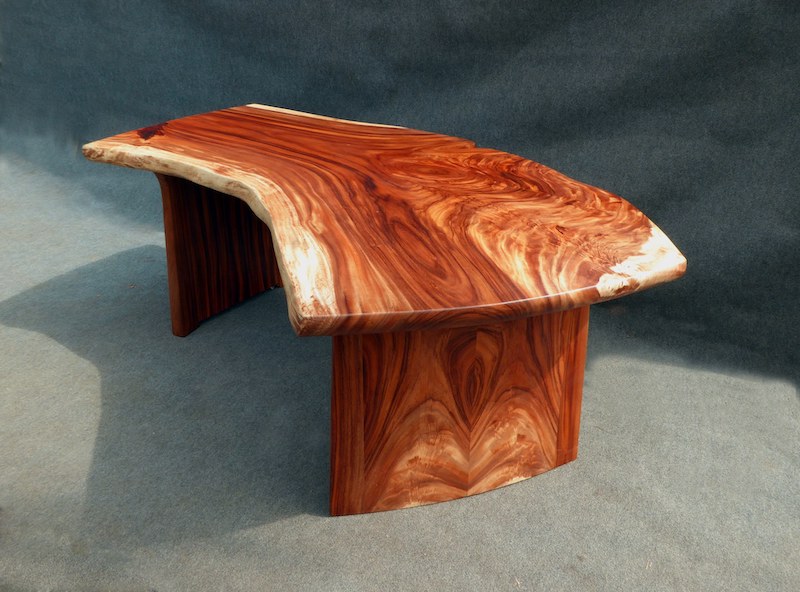 ---
Mauna Lani Mango Wood Desk
Mango desk at a home office at Mauna Lani. This is an outstanding example of how wonderful mango wood can be. The client did not want any electronics visible when not in use, so monitor, printer, computer are all enclosed and files are close at hand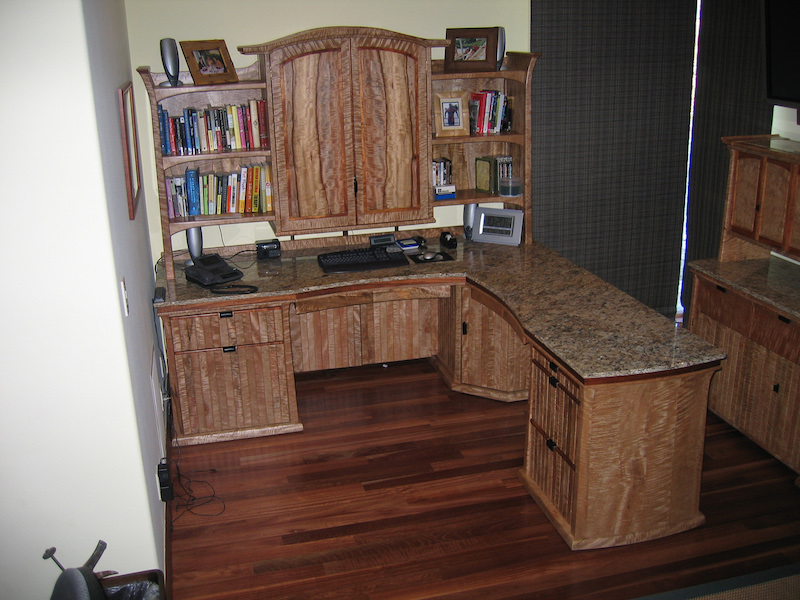 ---
Koa Desk for Mauna Kea
Koa slab desks have their own presence and very often, keeping things as simple as possible is the right thing to do. This was for a professor's home at Mauna Kea.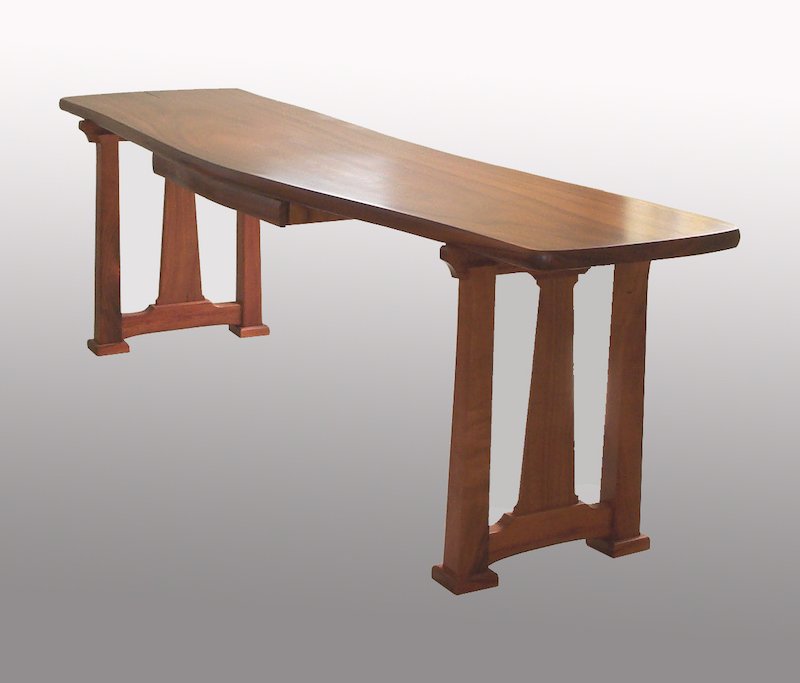 ---
Mahogany Desks
Two desks in Honduran Mahogany. Nowadays, I would use island-grown Khaya (African Mahogany) on pieces like this. The wood just glows and complements the homes that these are in.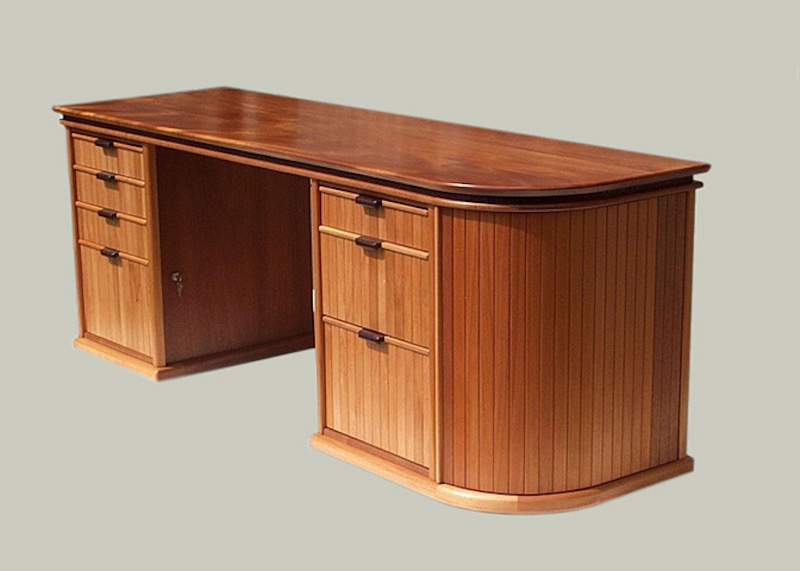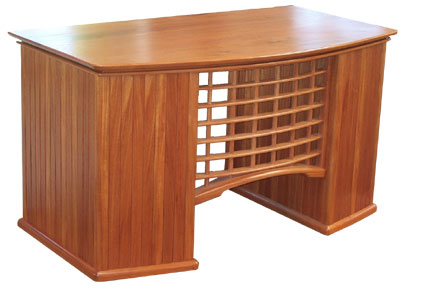 ---
Simple Craftsman's Desk
And sometimes a simple craftsman desk is all that is needed. This Koa desk has a single drawer and does its job, but on closer inspection, has several details and intrigues that make it a delight to share a room with. It's the little things...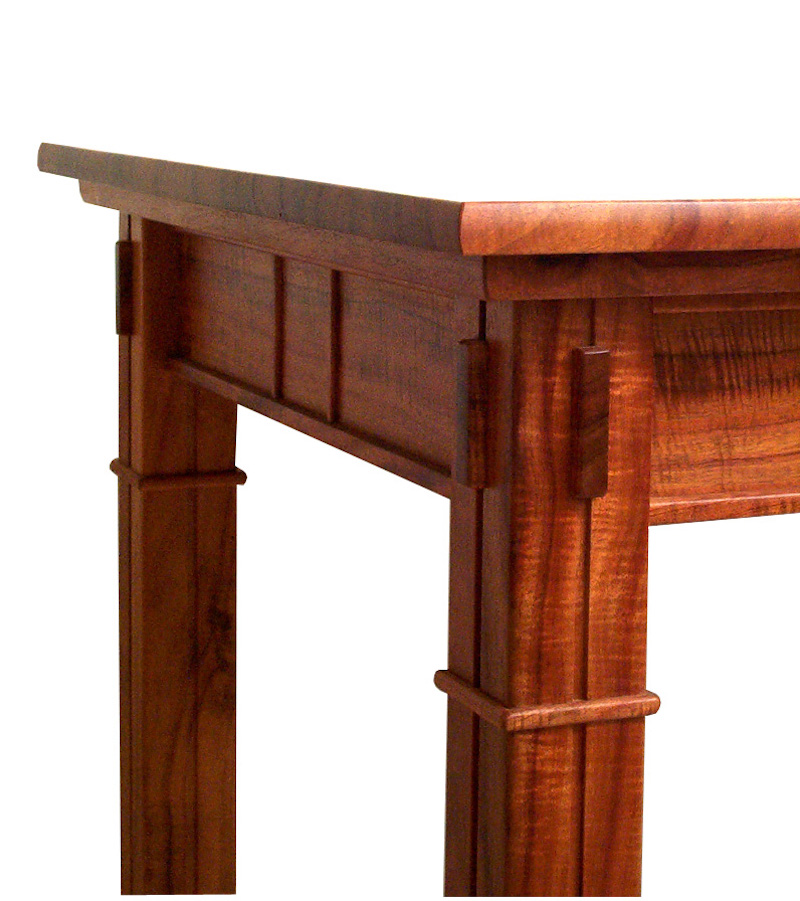 ---
Custom Desks Made to Order
I have a variety of large pieces of Koa and other woods on hand. Visit the "The Possibilities & The Process" page for some examples.
---